Our Story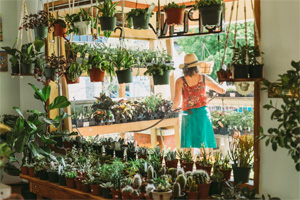 We both grew up in the same small town in rural Missouri and started dating in high school. After college, we spent several years drifting around between Kansas City and other parts of the world before finding ourselves in Portland. It was supposed to be a stay of only a couple of years, but we quickly decided to put down roots here.
We bought a house about six blocks from Livingscape, back when there were just a small handful of businesses on Williams, and relied on the store to supply everything we needed to replace the lawn that covered the entire property with a landscape that more closely mimicked our natural surroundings. We made vegetable beds, bought chicks, and started making all the mistakes we needed to make in order to learn – selecting plants that were much too large for the site, planting fruit trees that were more work than we could manage, letting the wrong weeds get too comfortable. We have made countless trips to Livingscape over the past twelve years to see what native plants we could add to our little space.
Shawna worked as a teacher of the visually impaired and Tim worked for a non-profit that was closely connected with all the amazing organizations and public programs working towards sustainability and community-based projects. He learned a lot from all the incredible work that happens in Portland
In 2012, our daughter, Bell, was born. As we re-emerged from the years of sleep deprivation, we both started imagining ways our work lives could be different. Shawna got certified to instruct yoga and quit her job in order to teach yoga and mindfulness practices to people in our community struggling with mental health and addiction. Tim realized that he needed to work with plants. He took the Master Gardener course, got his Permaculture Design Certificate, and completed a four part series on the medicinal plants in our bio-region. He got a job at a local nursery.
Owning a retail business is not something we ever planned to do, but when we heard that Livingscape was being sold or maybe even going out of business, we started giving it some thought. Over the course of several months, with a global pandemic plopped right in the middle of our lives, we decided to make the leap.
In the relatively short time we've lived here, we've seen an incredible amount of change. We've watched neighbors forced to move to make way for newer, bigger homes. We've seen lots of businesses come and go. We moved to this neighborhood because of its diversity, but we see now how we contributed to the change. While we both came from modest beginnings, there is no denying the privileges that have allowed us to come here, make it our home, and operate a business. We're very grateful for the opportunity.
Our intention going forward is to ensure some continuity in this one place amidst the development, and to constantly search for ways to use whatever success we might have with Livingscape to somehow reciprocate the generosity this community has shown us.