Check out our Pacific Northwest Native Plants section
Photos by Sara Wright Photography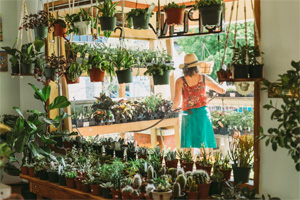 Houseplants
Indoor plants add peace and calm to any space. Our selection of tropicals, cacti, succulents, and air plants offer something for everyone, regardless of experience. We can help you select plants suitable for the amount of light you have and send you along feeling confident in how to care for them.
Planters
We carry a large variety of planters and hangers. Our planters come in a range of sizes and materials vary from ceramic, terra cotta, EcoForms- rice hulls, and plastic. We value supporting and carrying planters by local ceramacists.
Indoor Plant Tools and Supplies
We also have terrariums and everything you need to DIY your own creation. Including glassware, cactus and succulent soil, a variety of moss, horticultural sand, charcoal and colored rocks. When looking to put a new plant in a planter or "pot up" your plant into a bigger planter we have standard potting soil, orchid bark and cactus and succulent soils to ensure that your indoor garden will thrive. If you need plant maintenance we have moss poles, fertilizer and hand tools to keep your plants healthy and happy.
We typically carry the following plants
These are the plants we do our best to have in stock. Availability depends on what we can find from the growers we work with, so feel free to call or email to make sure we have what you're looking for.

ALOCASIA
Bambino
Black Velvet
Calidora
Ebony
Futura Suberba
Lauterbachiana
LowRider
Regal Shield
ALOE
Aloe Vera
Aloe Viper
Brevifolia "Short-Leaf Aloe"
Cameronii
Pink Blush
AGLAONEMA
BJ Freeman
Butterfly
Cutlass
Jubilee
Maria
Romeo
Rubi
Siam
Silver bay
Spring snow
Tigress
ANTHURIUM
Superbum
Pink, Orange, Red, Hybrid
ARECACEAE (Palms)
Cat Palm
Neanthe Bella Palm
Areca Palm
BEGONIA
Angelwing (Pink Mink, Brazilian Lady, Looking glass, Sophia, Sinbad, Benigo Pink, Fanny Moser, Medora, Miss Mummy, My Special Angel, Richmondensis Pink,
Kit Kat
Rex (Curely Fireflush, Royal Crown, Festive Paisley Pink, Fairy, Rumba, Tornado, Salsa, Spitfire, Flamenco, Blueberry Sorbet, Fireworks, River Nile, Green Gold, Escargot, Stained Glass, Madame Queen, Plum Paisley, Autumn)
CODIAEUM
Croton Petra
Croton Sunnystar
DIEFFENBACHIA
Camouflage
Exotica
Sterling
DRACAENA
Compacta
Limelight
Marginata Blush
FERN
Asparagus Meyerii Foxtail Fern
Asparagus Sprengeri Fern
Birds Nest Fern
Blue Star Fern
Button Fern
Lemon Button Fern
Maidenhair Fern
FICUS
Fiddle Leaf Fig
Burgundy Rubber Tree
Ruby Rubber Tree
Tineke Rubber Tree
Indian Laurel
HOYA
Carnosa
Carnosa 'Tricolor'
Carnosa 'Compacta'
JADE
Argentea Gollum
Crosby
Monstruosa Hobbit
Ovata Minima
MONSTERA
PEPEROMIA
Caperata Rosso
Frost
Napoli nights
Orba Pixie
Peacock
Pepperspot
Pixie lime
Ripple green
Rubella
Ruby glow
Schumi red
Watermelon
quadrangularis
PHILODENDRON
Birkin
Black Cardinal
Congo
Emerald Gem
Eva
Goeldii
Heartleaf (Green, Brazil)
Hope
Mia
Narrow
Xanadu
Rhaphidophora Decursiva (creeping philodendron)*
PILEA
Chinese Money Plant
Creeping Charlie
Silver tree
Moon valley
POTHOS
Emerald
Green Queen
Golden
Marble Queen
Neon
NJoy
MARANTACEAE
Calathea Lancifolia
Calathea Freddy
Calathea Makoyana
Calathea Medallion
Calathea Orbifolia
Calathea Ornata
Calathea Rufibarba
Calathea Warscewiczii
Calathea Vittata
Ctenanthe Lubbersiana
Maranta Leuconeura Red
Maranta Leuconeura Lemon Lime
Maranta Leuconeura Kershoueana 'Vareigated'
Stromanthe Triostar
OTHER ARACEAE
Caladium
Peace Lily
Syngonium (Pink & Nephthytis)
ZZ Plant
RHAPHIDOPHORA
SANSEVIERIA
Black Coral
Cylindrica
Fernwood
Fernwood Mikado
Futura Superba
Hahnii (many varieties)
Laurentii
Moonshine
Samurai
Starfish
Zeylanica
SCHEFFLERA (Umbrella Tree)
Schefflera Alpine
Schefflera Amate
Dwarf Umbrella Tree
TILLANDSIA (Air Plants)
Argentea
Bergeri
Bulbosa
Didisticha
Exserta
Harrisii
Ionantha
Juncea
Pseudobaileyi
Strica
Velutina
TRADESCANTIA
Baby Bunny Bellies
Fluminensis Variegata (green+white)
Fuzzy Purple Heart
Nanouk
Pink Princess
Sillamontana
Striped
Zebrina 'Silver Plus'
OTHER
African Violet
Aralia Fabian
Bird of Paradise
China doll
False Aralia
Hibiscus
Ponytail Palm
Nematanthus Black Goldfish
Money Tree
Spider Plant
Strawberry Begonia (Saxifraga)
Variegated Ginger
Zebra plant
ZZ Plant
CACTI
Assorted 2" and 4" Cacti
Euphorbia Firestick
Euphorbia Milu Supergrandflora Yellow
Golden barrel
Opuntia Ficus Indica 'Burbank'
SUCCULENTS
Assorted 2" and 4" Succulents
Aeonium variegated
Burro's Tail
Crassula String of Buttons
Cryptanthus
Gasteria
Haworthia Zebra
Propeller Plant
Mother of Thousands
Split Rocks
String of Dolphins
String of Hearts
String of Pearls