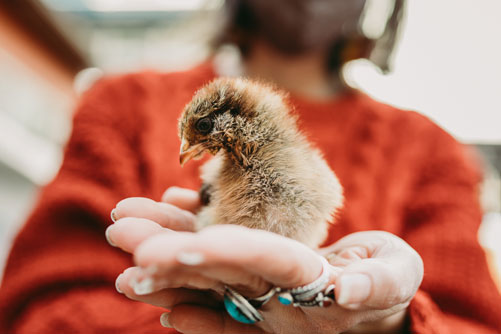 Birds and Mason Bees
Attracting birds to the garden.
Having birds regularly visit your garden brings a lot of benefits. They pollinate our plants, prey on unwanted insects, and bring a sense of wildness to our outdoor spaces. It can be really rewarding to watch birds gather nest-making materials from our gardens in the winter.
The best way to attract birds to your garden is to provide proper habitat – plants for food and shelter, an exposed mulch/leaf layer, and water. Once you've created a supportive habitat, it's time to add feeders and nesting boxes. We offer feeders, seed, and shelters.
We are proud to partner with the Backyard Bird Habitat certification program operated by Portland Audubon and Columbia Land Trust. We carry lots of plant options and provide discounts to participants in the program. We're also recipients of the certification and highly recommend it!

Mason Bees
Mason bees are unique and quite beneficial. They're native to the Pacific NW and, in contrast to honey bees (which are from Europe), mason bees will fly and pollinate even when it is raining or cool outside. They're not hive-forming and rarely sting.
We carry mason bee cocoons that hatch in late winter ready to pollinate your plants through spring. We also carry mason bee boxes and tubes to provide them nesting spaces.
Chicks and Pullets
Chick season has come to a close for us. We'll start taking reservations again in February of '22.
You can still find all the feed, bedding, and other supplies you need to care for your flock
Feed
We carry organic and conventional feed in both pellet and whole grain form, as well as grit, oyster shells, grubs and snacks. We also have all the feeders, waterers, heat lamps, bedding, poultry wire, and books you'll need to get your flock started and cared for.
Care
Please visit our Learning Center!